What To Wear To Pride Festival Outfit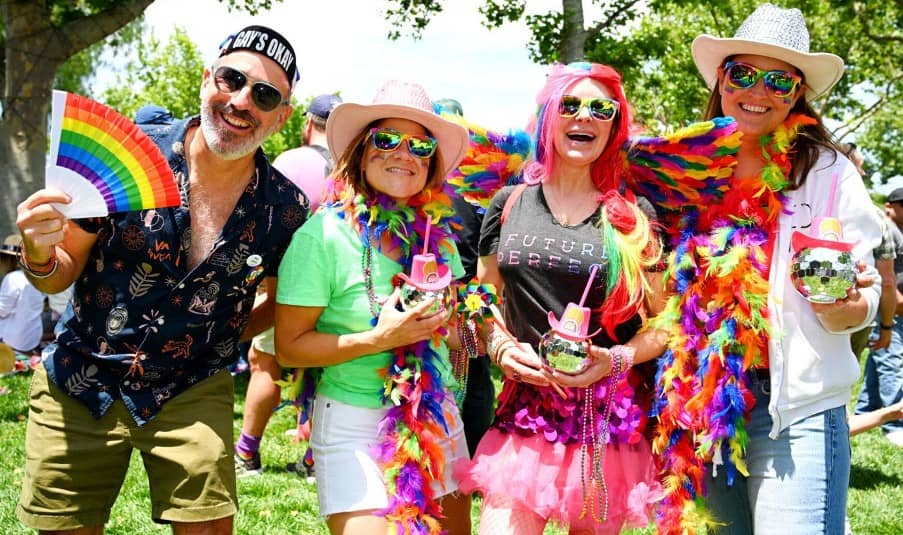 How you dress may reveal a lot about your personality and social attitude. Clothes are a form of self-expression. You might wear branded clothes with motivating messages to show your dedication to various organizations or occurrences, such as Pride Month.
Events, parades, and marches are held throughout Pride Month to honor and uplift the LGBTQ community. One of the finest ways to raise awareness of the LGBTQ community and to support and encourage its members is to wear Pride-themed clothing during this time. For Pride Month apparel, you'll find so many chic alternatives.
Rainbow Fashion to Show Your Pride in Style
To express your support and blend in with the crowd, don rainbow-colored clothing. Wearing rainbow-patterned clothing is ideal for demonstrating your support for LGBTQ+ causes at a Pride march without fitting in with the multitude. Look for rainbow-coloured clothing, including shirts, shorts, skirts, rompers, caps, and shoes.

The largest selection of rainbow apparel can be found online.

Bring a rainbow-coloured flag to wave along, please! To avoid their selling out, get one online soon before the procession.

Consider the weather when selecting your attire. Since many Pride parades occur in warm weather, dress comfortably by wearing delicate textiles.
Dress Up In Colors For Another Pride Flag
Put on colors for a different LGBT flag. Although the most widely recognized LGBT sign is the rainbow flag, you may wear many more colors and flags to represent other groups within the community. Check the flags, learn what they represent, and select one to display your support. Here are some options:
White, light pink, and pastel blue stripes make up the transgender flag.
The three-stripe pansexual pride flag is hot pink, brilliant yellow, and blue.
The bisexual flag is also made up of dark pink, royal blue, and purple.
The intersex pride flag bears a purple "O" amid a yellow backdrop.
Quickly Get Ready To Attend The Pride Parade With Daytime Frocks:
Having a one-and-done garment on hand makes getting dressed for any event simple. Select a comfy choice that can move with you if you plan to attend a Pride parade because you'll have to do a lot of standing and walking.
A flowy, multicolored dress with plenty of movement or a dress with lots of elasticity is suggested. Accessorize your dress with cozy flat sandals or chic sneakers, as you'll be dancing all night.

Wearing rainbow colors is the epitome of "pride," in my opinion. Fashionable and symbolic, rainbow-themed apparel is both. The rainbow has long represented LGBTQ+ pride.
Pride Pants For The Parade:
You are already aware that it is improper to wear shorts in public. We strongly suggest wearing shorts or pants if you don't want to irritate anyone. Incorporating trousers into your pride parade clothing makes sense if you want to be safe at all times because there will be numerous events that day. You are more receptive to shorter ones than full-length ones, which is a benefit. Shorts are a common choice. If you want to stand out, you may wear shorts. Additionally, it's typical to see people of both sexes wearing Pride clothing.
Pride Mesh Top:
A pride mesh shirt is a fantastic and unique addition to your pride wardrobe. Mesh tees may be done up for an enjoyable night out, paired with informal, everyday attire, or even worn for work or school, depending on the look you pick. A mesh or sheer pride top is a terrific way to show some flesh without feeling too exposed, no matter what you decide.

Wear a blazer or jacket in a solid, vivid color with a mesh shirt in white or black. It will make the mesh fabric less noticeable.

Wear an open-back top with tiny holes to prevent it from becoming overly sheer or revealing.

Wear an underwire bra that complements the mesh top's color so it does not look out of place.
Pride Rainbow Jumpsuit
The Gay Pride Multi Colored Bodysuit, with its graffiti artwork and rainbow color scheme, is an indisputably proud choice if you're looking for gay pride clothes that command attention.

This sexy bodysuit is made of stretchy spandex and has foam padding on the shoulders to draw attention to the upper body. This rainbow romper may be accessorized with matching tight shorts, a heart-shaped pair of sunglasses, and leather cuffs for a complete gay pride parade ensemble.

I love this Pride clothing; having the same out-and-proud attitude, you may find the sexiest gay pride clothes for guys, such as rainbow adult onesies and colorful striped rompers.
Tanks For The Pride
Wearing one of our tees, you may best recognize Pride Month. The most crucial choice for hot June marches is a classic LGBT Pride t-shirt that encourages body positivity.

Use these jersey tees or form-fitting variations to encourage self-love and ease when dressing. In our selection, you may choose between the traditional side tapering and the modern raw, unsewn side design.

Be vocal and proud of your work towards gender equality, wherever you are! And to make matters even better, wearing this tank top gives you a chic appearance thanks to its unmistakable message.

Conclusion:

I Support LGBT provides a variety of your favorite Pride clothing products that will let you demonstrate your support, whether you like loud and bold clothes or more understated attire. Our clothing is made to advance equality and love for all people.
Due to our dedication to and engagement in the LGBT community, we ensure that each piece of Pride apparel has a distinctive design demonstrating love and support.
The majority of the items in our Pride collection are printed out, but we also offer embroidered goods like the Pride Flag Embroidery Sweatshirt and the Pennant Pride Hat.