Pride in Practice - LGBT Healthcare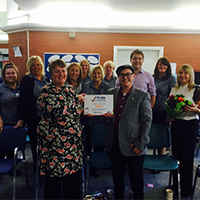 It can be all too easy to put off those important health checks, especially when you're lesbian, gay, bisexual and/or trans. We worry that when we go to the GP, the dentist, the pharmacy, or the optometrist that they will not know how to talk to us about our gender identity or sexual orientation or that we will experience outright discrimination.
1 in 5 LGB people have told us their sexual orientation is a factor in them delaying accessing health services, while just over half of trans people say their GP is 'downright unhelpful.'
Writing in the Mirror on Sunday, Dr. Miriam Stoppard noted that 'Three-quarters of [healthcare] staff have no training on the health needs of LGBT people or how to support them socially'. She links this to the health inequalities faced by LGBT people; young lesbian and gay people are far more likely to drink more and smoke more than young straight people, 88% of trans people have experienced poor mental health, bisexual women are far more likely to experience sexual assault.
However, there is support out there. Dr. Stoppard mentions LGBT Foundation's primary care quality assurance service, Pride in Practice, which provides tailored and ongoing support, training and advice to GPs, dentists, pharmacists and optometrists to help them make their services fully inclusive to all LGBT people and is funded across Greater Manchester.
Castleton Health Centre recently became the first GP Practice in Rochdale to win a Gold Pride in Practice award for excellence in LGBT healthcare. All staff took part in a training course about how to support their lesbian, gay, bisexual and trans patients.
The award celebrates changes that the practice have made to provide better care to their patients, such as making sure trans patients are included in routine cancer screenings and introducing sexual orientation monitoring, as well as recognising the work that the practice were already doing to provide an inclusive service.
Dr. Schofield, a GP at the practice said, 'Laurence from LGBT Foundation has helped us to make improvements to ensure that LGBT patients feel welcome and can be confident that they will receive a high standard of care at Castleton Health Centre.  We are delighted to achieve a gold award and to hope that other Rochdale practices will follow our example!'
Laurence Webb, Pride in Practice Manager, said'I was really impressed with the practice's commitment to inclusive healthcare for everyone. I'm delighted to present the team with a truly well-deserved Gold award!'
So next time you're putting off an appointment, why not see if your GP, dentist, pharmacy or optometrist has a Pride in Practice award and get checked up with confidence.