Most Radiant And Perfect Women's Pride Outfits.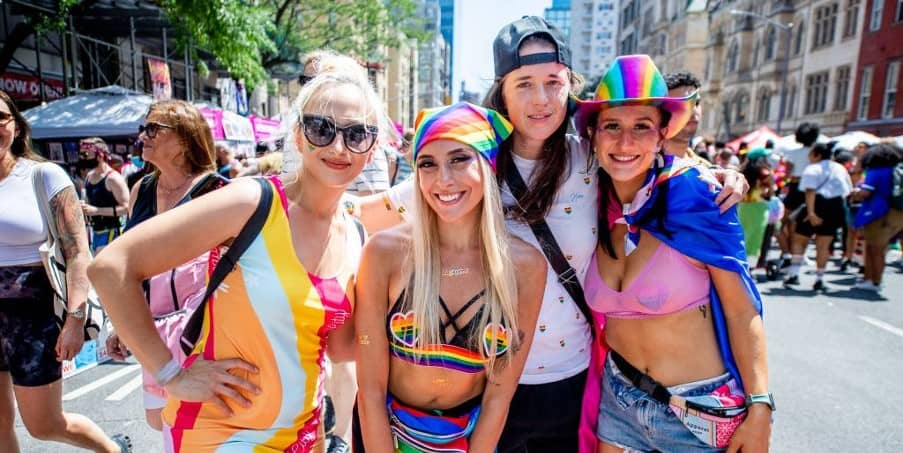 Picking out Pride costume ideas is undoubtedly one of the most thrilling and freeing aspects of the entire celebration of and elevation of the LGBTQ+ community throughout Pride month.
You're not the only one who struggles to decide what to wear. Exhibiting your style without becoming too hot might be challenging. The most significant aspect of dressing is to feel comfortable and at peace.
If you respect the style and celebrate Pride, you must comprehend this. It doesn't matter if you support people who identify as LGBTQ+ by wearing a simple, colorful t-shirt or a glittering sequin suit; what matters is how you do it.
Rainbow Sequin Dress
If your plans include all-night parties, I have the perfect pride attire.

It's simple to dress this rainbow sequin dress up or down. Consequently, you won't need to change clothes to travel from the march to the festival or the club.
Please put on your outfit and accessorise it with adorable pride-themed sneakers.
Women's Pride Crop Top
It's incredible how much a single, basic word can convey. With stunning rainbow-coloured text on a basic black or white crop top, this women's crop top perfectly captures the spirit of Pride.

Wearing this will unleash the ferocious, seductive beast within you. Nothing is more suited for going to a rave and dance party, a pride march, or either. If you like crop tops at all, this is a must-have.

This shirt hits close to the navel and is quite comfortable despite its tight fit. Work it, lady; give it a spin because you are about to be everything in this!
Women's Graphic Tee
Consider including a statement shirt in your Pride outfit preparation so that you can communicate who you are without speaking. Pride involves openness and unity, among other things, and it may be communicated via style in addition to speech.
Find or make a statement shirt that will represent you all day. A graphic shirt is a great way to commemorate the movement and the time, whether for memory or love festivities. Look for striking outfits created from soft, breathable materials to prepare you for Pride events.
Denim And Flannel Combo For Women's
A denim and flannel outfit will astound you with how effortlessly trendy you'll appear, making you stand out from people of color. A timeless wardrobe essential that complements practically anything is denim.
Choose a short or tucked-in plaid shirt to go with a set of high-waisted frayed denim shorts for this look. Any flannel shade may be used, but it's better to use vibrant hues like pink, yellow, or blue for pride celebrations. When styling this outfit, you may opt for an edgy appearance by wearing combat shoes or chunky trainers.
Don It With Makeup.
Prepare to show off your Pride by donning an eye-catching outfit with a rainbow motif. Makeup with a rainbow motif should be applied first, such as vivid eyeshadow or firm lips in all the rainbow colors.
Try Homemade rainbow hair colors with a quick spray-in color for hair or even colored hair chalk if you are prepared to go all out. By dividing your hair into various colored sections or producing an effect of gradient from one end to the other, you may create a cute and colorful hairdo.
Bold And Bright Accessories
At the upcoming LGBTQ+ event, don't settle for a plain outfit; upgrade your look with striking accessories that will help you stand out among the crowd. Adding uniqueness to your wardrobe, whether with rainbow jewelry, sparkling sunglasses, or quirky headwear, is the focus of Accessorizing with Pride:
Advice and Strategies for Loud and Bright Outfits. To design a distinctive ensemble that embodies who you are, go outside the box, be bold, and combine various colors and materials.
Your accessories will give you confidence and good vibes throughout the procession. You'll have a comfortable yet fashionable style ideal for any pride event when you match it with jeans or a flannel shirt.
Comfortable Women's Shoes
These are the ideal shoes for attending a parade. Whether marching or dancing, comfortable women's shoes are essential for your Pride attire. Try a colorful pair of trainers to create an activewear style to wear to a march for change.
To attend a Pride film festival, wear vibrant shoes and match them alongside a wide-leg skirt, sleeveless shirt, and casual jacket. For all your Pride activities, fashionable footwear with supportive footpads is a necessity.
Women's Tote Bag
Women's tote bags are crucial since they communicate to others that you support the LGBT+ movement and give other activists the impression that they are in a welcoming environment.
A women's tote bag is one of the numerous things you may have to allow the world. They provide just the right amount of fashion and adaptability. They work well as gym bags, office bags, beach bags, school bags, university bags, and even simple grocery bags.
When properly cared for, tote bags may store many items and are large and roomy enough to accommodate them.

Conclusion:

I Support LGBT offers a selection of chic and distinctive women's clothes with pride-themed designs. After you order, a unique item will be made just for you. The finest-quality, comfy, realistic T-shirt will be used. They offer pride t-shirts for sale to everyone. Despite being somewhat pricey, quality is a function of price.