What To Wear To Pride As An Ally?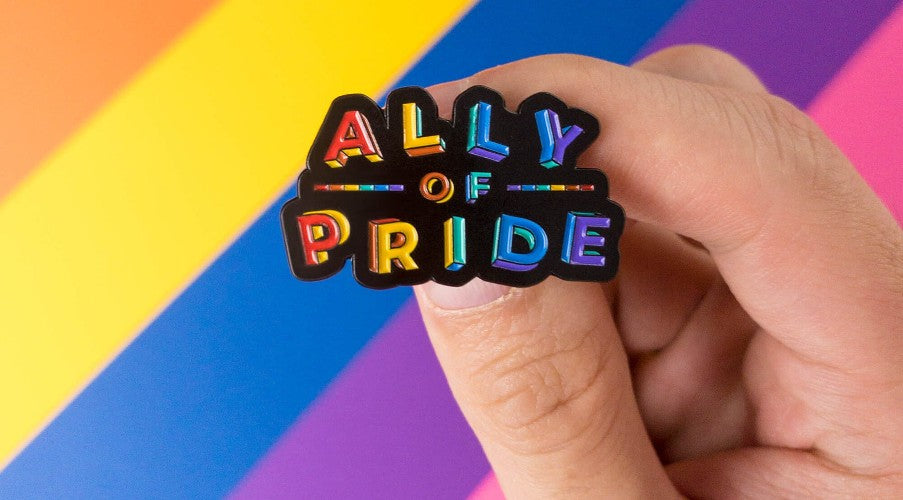 Celebrating the event with the members of the LGBTQIA+ community, straight supporters are invited. They are welcome to support and uplift the celebration while participating and showing their support. The LGBTQIA+ community may more freely express themselves with the aid of allies.

Fortunately, you have some ideas on what to dress to Pride, always remember to BE YOU. Your attire should represent YOU, whether you're supporting someone else or celebrating being who you are. Wear something that expresses who you are and honor's the environment and period you are in.
Gender-Neutral Clothing
Regardless of gender stereotypes, choose attire that makes you feel comfortable demonstrating your support. Consider wearing a loose-fitting t-shirt with tuxedo trousers, a sweatshirt over a pair of loose-fitting shorts, or shoes and a matching beanie.
The choices are virtually limitless when it relates to combining items from other apparel departments. Fashion is a form of gender expression. So go ahead and enjoy yourselves!
DIY It
Create your own Pride dress to express that you support LGBT people. Create a unique Pride t-shirt with fabric paint or markers, or go all out and create a sparkly rainbow vest. Channel your inner hippy to make a trendy tie-dye rainbow t-shirt.

Have everyone dress in a different color from the rainbow so that you can capture the entire spectrum in photos. There are more hues than just seven. Therefore, it doesn't matter how many people are in your entourage—big or small—you can make it work.
Tees With Images
In addition to being cozy, graphic t-shirts substantially impact others' perceptions of you and your values. There is stuff out there for every style and taste because these stylish shirts come in all different sizes and forms.

Any Pride costume may benefit from graphic tees with rainbow flags, pro-LGBTQ+ rights statements, or simple, clever designs. Wear your top with one of our all-cotton outfits, and you'll be ready for the occasion in style and comfort.
Patches And Pins
We believe there may be no better way to flaunt your rainbow pride than donning a stylish LGBT pin or patch.

They are vivid while still undetectable enough to feel secure in strange settings. LGBT enamel pins and patches are also a distinctive way, if you're an ally yourself, to let people in the community of rainbows know that you can support their efforts to create an environment where they feel free to be who they are.

Additionally, they are merely enjoyable to add a little personality to your clothes, accessories, or whatever else you choose to stick them on. Whatever way you look at it, LGBTQ pins are the best.
Paint It On
No attire? No issue!

Even if you cannot find anything created expressly for the event, don't panic; body paint may transform any outfit into a Pride costume.

Use your imagination by painting rainbow or flags onto each side of your face or by using temporary tattoos to decorate exposed skin regions like your arms and legs with sparkling hearts and stars. This strategy enables everyone to express themselves as they see fit while supporting their community.
Amazing Accessories
Accessories are the best way to spice up your appearance. The options for striking accessories are infinite, ranging from caps and sunglasses to jewelry and purses. Put on an appropriate set of earrings or add many colorful necklaces.

Alternately, include a striking bag with eye-catching patterns and colors, such as a fanny pack or backpack. As a result of its reversibility, you'll appear to be so dedicated to the glance that you carry two hats when you glance back at photos taken by your pals. You may add bold accessories to any outfit to make it sparkle even more.
Don A Palazzos Or Jeans
Anyone interested in fashion should be aware of the effect of the timeless ensemble of pants, palazzos, and pride t-shirts since it has been popular for years. These two items are informal and cozy, and they go nicely together. I want to look good with a pair of denim and a T-shirt. Make sure the pants you wear stand out from the rest of your outfit.

Wear your pride shirt with faded, embroidered, or elaborately adorned jeans. You might wear these pants with anything, such as a piece of clothing or a crop top, depending on the occasion, location, and purpose for which you wear them.
Shirts With Different Sleeves
These are the most popular and uncomplicated pride T-shirt designs. The Pride T-shirt is as described. This kind of T-shirt is popular among both sexes; it is gender-neutral. Pride t-shirts are a part of the trend of anything dating being in vogue, especially in fashion.
However, you may also purchase this look. This t-shirt pulls it off flawlessly. If you're willing to jump and explore unknown fashion seas, add this unique piece to your collection. It's perfect for occasions, beach days, fancy cocktails, or grocery shopping.

Conclusion:

Wearing a pride shirt is the finest way to show appreciation and support for the LGBT community. You might enjoy this selection of our favorite LGBT ally t-shirts. Depending on your preferences and needs, your customized shirts may be delivered to your home. The best pride shirts can be purchased at I Support LGBT.