FAST Shipping Worldwide!
 We were only able to pre-ordered 100 of these Pride Pashminas and are not sure if we will have any after. Grab one today!
♥Elegant Pride Pashmina Shawl♥- is the perfect accessory to celebrate your true colors. Made of high-quality Viscose, it's a stylish and versatile addition to your wardrobe.
With an ombre pattern representing the LGBTQ+ rainbow flag seamlessly woven in, it's a symbol of pride and love. Whether you're headed to a weekend casual event or seeking a meaningful gift, this shawl is a fashionable and inclusive choice.
Its inelasticity ensures it maintains its shape, and the Jacquard craftsmanship adds elegance. Wear your true colors and make a statement with this Pride shawl.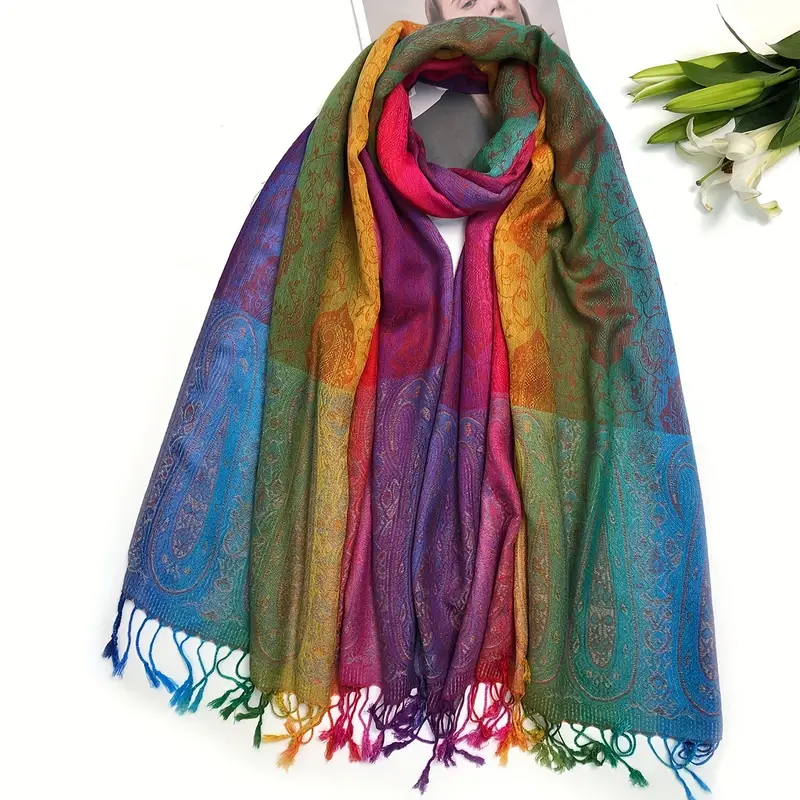 Whether it's a weekend soiree or a spontaneous stroll in the park, let your style be the voice of change. The Elegant Pride Pashmina Shawl isn't just about turning heads; it's about turning hearts. It's your vibrant salute to a world where love knows no boundaries, where diversity shines, and where authenticity is celebrated. Wear it, and let your fashion make a powerful statement
Specification:-
Material: Crafted entirely from luxurious Pashmina.
Variety: Available in gradient colors.
Size: Generous at 70*200cm (27*78.7 inches).
Weight: Lightweight, just 150g (0.33lb).
Versatile: Suitable for all seasons, medium thickness.
Pattern: Features an elegant design.